Grilled Portobello Mushrooms
For All Stages of the ITG Diet Plan
Difficulty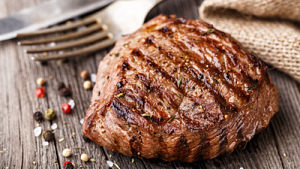 Ingredients
For 6 Servings(s) (






)
Recipe
6

Large Portobello Mushrooms

0.25

cup(s)

Olive Oil

1

teaspoon(s)

Salt

0.5

teaspoon(s)

Black Pepper

0.5

teaspoon(s)

Garlic Powder

0.5

teaspoon(s)

Fresh Thyme
Grilled Portobello Mushrooms Directions
Preheat gas grill to medium-high heat. Clean grates.

Prepare Portobello mushrooms by removing the stems. You can cut them with a knife. Using a spoon, scrape down the gills of each mushroom. 

Season on both sides with salt, pepper, garlic powder and thyme (optional). Brush with olive oil on both sides.

Place mushrooms on the grill, stem side up and grill for 5-7 minutes, until the liquid on top has almost evaporated. Flip and grill for 5-7 more minutes.