ITG Zuppa Toscana
For All Stages of the ITG Diet Plan
Difficulty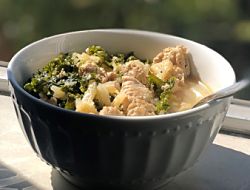 Ingredients
For 10 Servings(s) (










)
Recipe
8

cup(s)

low sodium chicken broth

14

ounce(s)

unsweetened almond milk

1

pound(s)

ground turkey or chioken

1

head cauliflower, broken into florets

8

ounce(s)

fresh kale

1

tablespoon(s)

Italian seasoning

1

teaspoon(s)

crushed red pepper flakes

salt and pepper to taste

1

tablespoon(s)

garlic powder

0.5

cup(s)

minced white onions

2

tablespoon(s)

coconut or extra virgin olive oil
ITG Zuppa Toscana Directions
In a large stockpot, heat coconut oil over medium-high heat.

Add ground turkey or chicken and cook for 6-8 minutes until brown, mix continuously to keep it ground.

Add chicken broth, cauliflower, onion, and seasonings - stir to mix ingredients.

Bring soup to a boil.

Reduce heat and allow to simmer for 10 minutes or more for desired tenderness of cauliflower.

Add kale and almond milk and continue to simmer for 5-10 more minutes until kale is tender, stirring occasionally.

Add salt and pepper to taste when serving.

Can be refrigerated for up to a week or kept frozen for reheating later; makes about 10 one-cup servings.

Optional: To add kale to soup fresh each serving, place chopped kale in bowl and pour cold soup on top. Place in microwave to heat and then stir ingredients together. Please note that broth and almond milk may separate, simply stir vigorously before heating.