Herb-Stuffed Zucchini
For All Stages of the ITG Diet Plan
Difficulty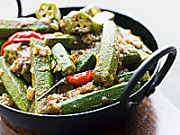 Ingredients
For 4 people (




)
Recipe
1

Bag ITG White Cheddar Crisps

2

Medium Zuchinni or Summer squash (sliced longwise)

1

Chopped tomoato or cherry tomatoes

12

Small bunch parsley

1

Basil leaves

1

teaspoon(s)

Dill

1

Garlic clove (minced)

2

tablespoon(s)

Olive Oil
Herb-Stuffed Zucchini Directions
Split 2 medium zucchini or summer squash and scoop out the seeds;
season with sea salt & pepper.

Combine crushed White Cheddar Crisps, tomato, herbs, 1 minced garlic clove, 2 tablespoons olive oil, and salt and pepper.

Spoon the tomato herb mixture into the zucchini; drizzle with olive oil.

Bake at 425 degrees F 25 to 30 minutes.